Pride day germany Download Material
Download the brand new PRIDE DAY GERMANY logo and other templates, such as virtual backgrounds, social media banners and much more, for free. We also provide you with a posting kit including a communications guideline.
pride day germany posting kit (gERMAN)
With our PRIDE DAY Posting Kit, nothing stands in the way of your successful communication around your PRIDE DAY GERMANY initiatives. Download the Posting Kit and the materials below to show how your organisation lives diversity.
PRIDE DAY GERMANY Logo
We have had our own logo developed for Pride Day Germany, which we are making available to you free of charge! We invite you to download the logo and use it for your initiatives. Whether on T-shirts, banners, flags or a photo or video spread: SHOW YOUR CORPORATE PRIDE with the Pride Day Germany logo!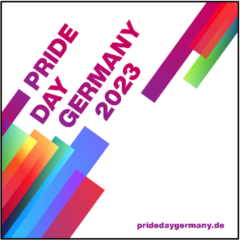 PRIDE DAY GERMANY POSTING TEMPLATES
With our posting templates you show at a glance that you are part of PRIDE DAY GERMANY! Our key visual gives you the opportunity to make your actions and communications visible in the sense of PRIDE DAY GERMANY in 6 slides. Whether as a ready-to-use posting image or with free spaces for your own logos, content and more – with our templates you show: WE MEAN PRIDE!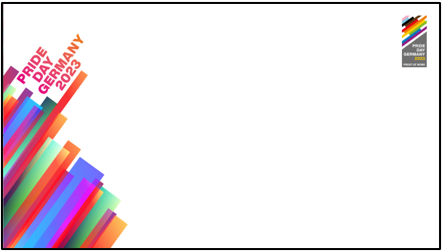 Pride day germany wALLPAPER
Already done with all the backgrounds for the virtual team call? Download our PRIDE DAY GERMANY wallpapers here – and show your colours.

pride day germany Social media Banner
Your social media presence is eye opening … Show the world that you stand up for LGBT*IQ diversity – with the PRIDE DAY GERMANY banners for Facebook, LinkedIn and Twitter for free download.
PRIDE DAY GERMANY T-Shirt Motive
You want to show your colours together with your staff? Here are the print data for a PRIDE DAY GERMANY 2023 T-shirt.
pride day germany plakatvorlagen
With our poster templates for PRIDE DAY GERMANY 2023 you can show your colours at the workplace. The posters are available in DIN A1 and A0 formats in four versions each. Whether you want to label them yourself or print them out ready-made: Show your Corporate Pride!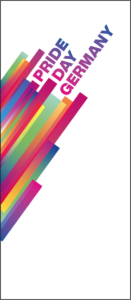 PRIDE DAY GERMANY FLAGS
One of the most popular tools to show PRIDE: the flag! Here are the print data for beach flags and normal flags in the formats 120 x 300 and 250 x 150. Show your flag, take a photo and tell the world: #WeMeanPride