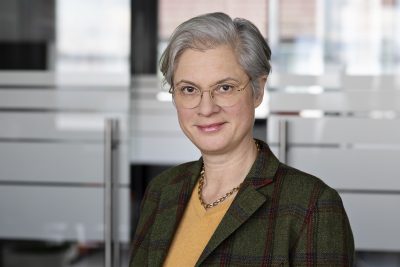 A talk with… Eva Kreienkamp
"In democracies in particular, they just need the courage to come out at work – which I recommend."
In 2019 you have been in the 1. place and 2018 in the 2. place of the TOP 100 OUT EXECUTIVES, Now you are part of the jury, you have founded some LGBT*IQ-networks yourself. When did you realise, that you are a role model?
Eva Kreienkamp: I rather see myself as a person who can give others guidance now and then, be it professionally or personally. With that I contribute to the society as well – the more LGBT*IQ people are out, the better for the inclusiveness of a society.
What do LGBT*IQ people need to feel safe enough to feel safe enough to be out at work?
Eva Kreienkamp: In democracies in particular, they just need the courage to come out at work – which I recommend. Then we find out how welcome we are. And if not, it takes courage to leave and to not stay in a personally destructive work situation. And then again, it's our obligation to support LGBT*IQ people elsewhere.
How does our working world achieve more visibility of lesbians in the professional context?
Eva Kreienkamp: Out lesbians achieve visibility, the workplace is just an environment. Other environments are political organizations, associations or sports clubs in which visibility is also necessary. Based on that it's also going to work out in the professional context.